Seaport Capabilities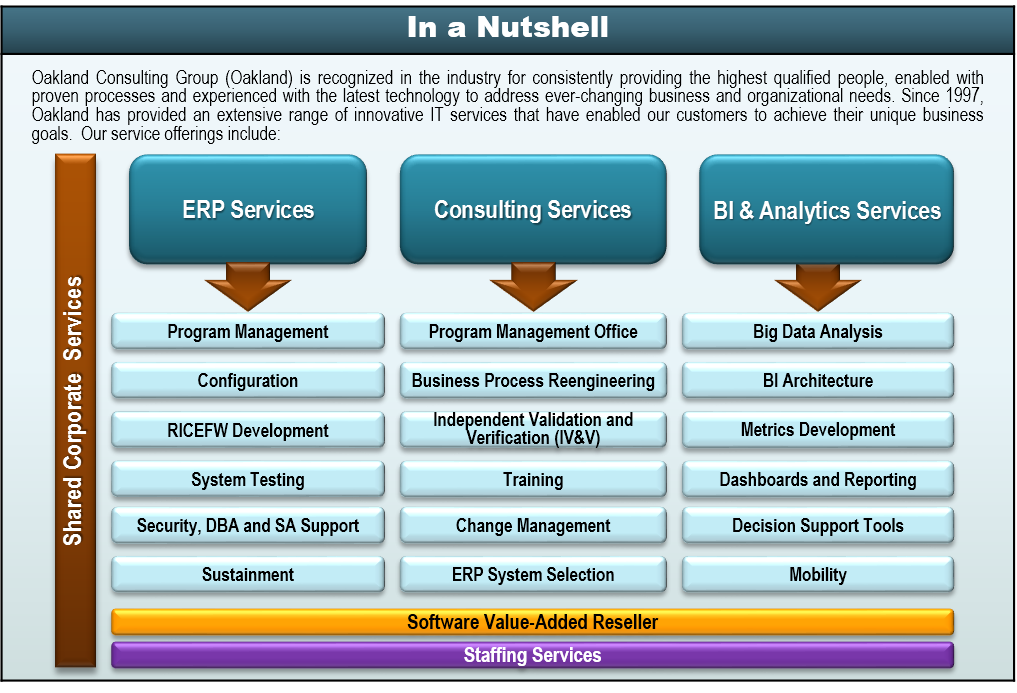 Seaport Quality Assurance Program
Oakland's Quality Assurance Plan (QAP) establishes the approach, procedures, and activities used to guarantee that we apply rigorous quality assurance (QA) measures to control work and ensure repeatable desired results. We have used our QAP approach for over five years, with our resulting work performance products being consistently deemed outstanding by our clients.
Our QAP delineates QA and quality control roles and responsibilities, performance monitoring methods, schedules, performance measures and metrics, reports, and records requirements. The plan contains actions and procedures we tailor to reduce program risk and improve the quality of the products and services delivered. We use the metrics and measurements to monitor work progress and interim delivery milestones and include them in our Monthly Task Order (TO) Status Reports.
Our approach includes methods and tools that enable us to effectively manage multiple concurrent contracts. The high quality of communication across all projects is one of Oakland's key success factors, enabling reduced cycle time to productivity for new contracts and consistently strong execution, which leads to program success and realized cost savings.
Team Oakland's QAP incorporates project artifacts, performs assessments and reviews based on pre-established metrics, and provides visibility to our Account Manager (AM) and the government PM on the overall health of the project. The assessments performed are in the form of peer reviews, In Progress Reviews (IPR), and quality control and risk audits. Corrective actions are noted and escalated. We invite our customers to participate in peer reviews, in-process reviews, and risk audits, providing an opportunity for them to provide input and observations regarding project management activities.